Composite Fillings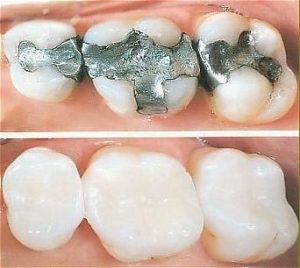 As part of our treatment options, Hill Crest Dental Center offers composite resin fillings, also known as "white" or "tooth-coloured" fillings, to repair chipped, stained and decayed teeth.  These composite fillings can be used in place of traditional metal fillings to treat tooth decay or injury and even replace older metal fillings.  They are also used to close up spaces between teeth to provide a cosmetic solution.  The current tooth-coloured filling materials are not only strong and durable, they blend in and keep your smile looking natural.
If you have large areas of decay, or have a large, older filling to replace, a composite resin filling may not be the best choice.  Instead, a porcelain inlay, onlay or crown may be a better alternative.
Call us to discuss your best treatment options.