Crowns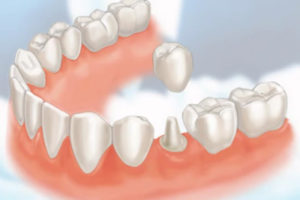 A Crown is a restoration that covers a tooth to restore it to its normal shape, size, strength and function and protects and already damaged tooth from further decay.
There are several types of crowns that can be used to repair damaged teeth:
Metal
Ceramic
Porcelain fused to metal
Metal crowns are durable, strong, and ideal for providing support to the back teeth for biting and chewing. The second option, ceramic crowns, are made of a translucent material that matches the natural colour of your tooth and are a great choice for treating teeth at the front of your mouth that are visible. The third option, porcelain crowns, are both strong and aesthetically pleasing like the ceramic crowns.
The crowns are designed to cover and protect the entire surface area of the tooth. They not only restore teeth back to their original strength and relieve the physical discomfort caused by tooth decay or damage. Crowns are very long lasting, providing years of comfort over the damaged tooth. They can also be done in as little as two visits to the dentist.