Implants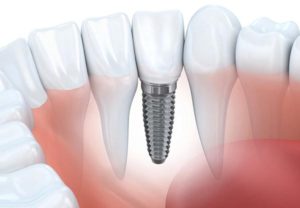 Dental implants are a good choice to replace missing teeth and fill gaps in your smile. They can help restore your smile and your confidence. Dental implants create the foundation required to insert replacement teeth that look, feel and work like your natural surrounding teeth.
The implants are made of titanium and are inserted into the jawbone where you have missing teeth. The jawbone then bonds with the titanium, creating a very strong foundation to insert artificial teeth. Implants not only have an aesthetic benefit, they can also help preserve the structure of your jawbone and prevent bone loss where you have missing teeth.
If you have lost teeth due to decay or injury, dental implants may be the right treatment plan to help make your smile bright and healthy.