Teeth Whitening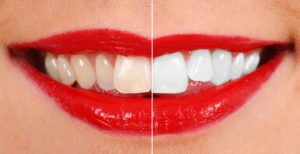 Teeth become discoloured and stained due to age, diet, smoking, injuries, medication, and a host of other factors. We offer teeth whitening in our office, which is a popular and established dental procedure that restores stained or discoloured teeth to a healthy, natural shade. Although results vary from patient to patient, the improvement in the colour of the teeth leads to a younger, brighter, and more attractive smile.
Teeth whitening can be done in our office using a whitening gel applied over the teeth and a special light to speed up the whitening process. This procedure can also be accomplished at home by using whitening gel placed in custom-made bleaching trays that the patient wears for a week or two. The results from teeth whitening are long-lasting, although diet, smoking, and oral hygiene habits will determine the long-term outcome. Touch-up treatments are therefore recommended occasionally to keep the teeth lightened.
Teeth whitening can really take your smile to the next level and boost your confidence. These simple procedures can take your smile from yellowed or dull to sparkling white and beautiful. Whether you're looking for an in-office or at-home treatment, Hill Crest Dental Centre can make your smile bright again!