Tooth Coloured Fillings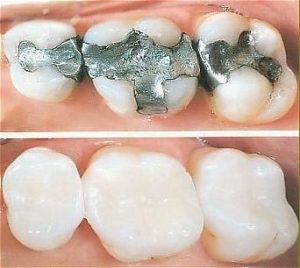 As part of our modern treatments, Hill Crest Dental provides white tooth-coloured fillings. You no longer need to worry about having metal fillings visible in your smile. The current tooth-coloured fillings are not only strong and durable, they're invisible and keep your smile looking natural.
These ceramic fillings can be used in place of traditional metal fillings to treat tooth decay or injury and even replace older metal fillings. The fillings restore teeth to their original strength and function, and help protect them from further damage or decay. This composite material is completely safe to use and eliminates some of the risks that metal fillings have to your health.
The process for white fillings:
  

Any decay is removed from the tooth.

  

The tooth is prepared with a mild solution.

  

The composite material is placed layer by layer, and then hardened with an ultra-violet blue light.

  

The filling is then shaped and polished.
It's that simple to restore your tooth for long-lasting results and a pleasing look.
If you have large areas of decay, it may be necessary to go one step further and use a porcelain inlay, onlay or a crown.